Netlify vs WordPress – Which is the Most User-Friendly CMS in 2021?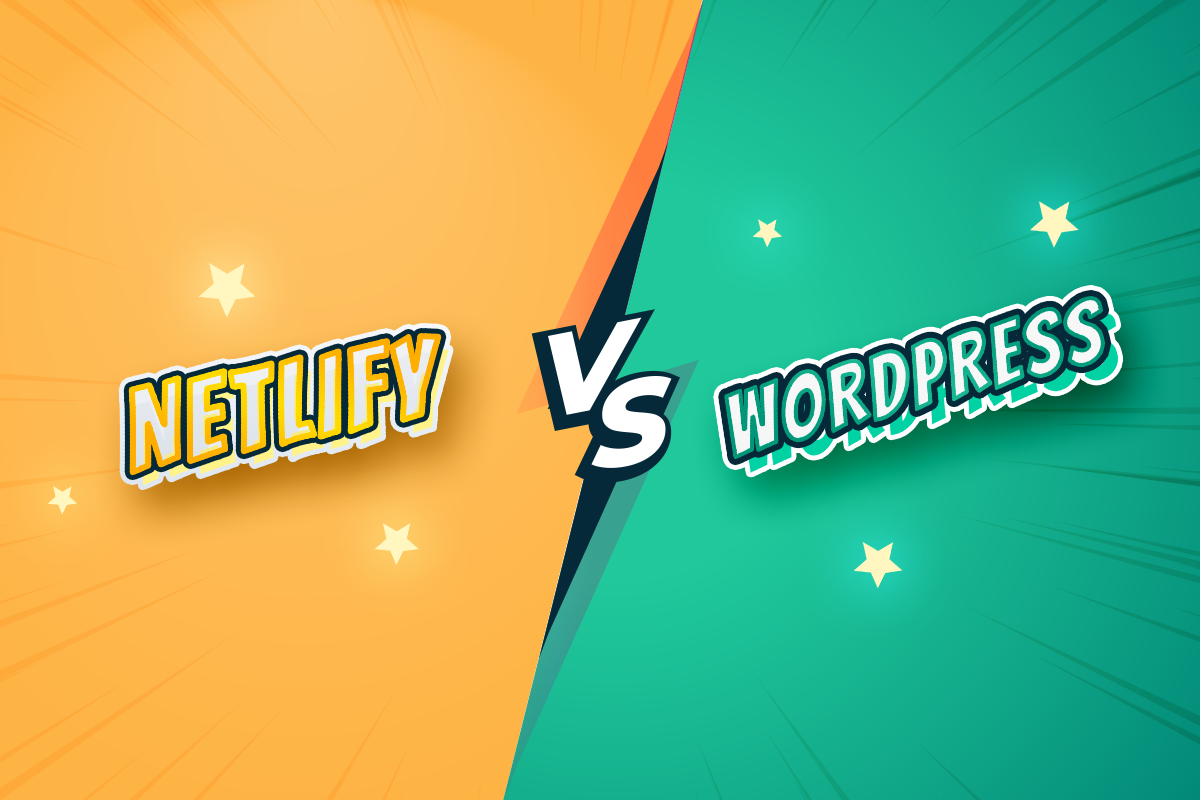 WordPress is considered to be the world's most popular CMS with open-source customization and can be used to build both large and small websites that accommodate a variety of functions such as e-commerce, blogs, and portfolios. Based on JamStack technology, Netlify is an all-in-one platform for automating modern web projects and caters to advanced users like website developers who have some amount of coding experience.
Two of the most robust content management systems, Netlify and WordPress are both open-source and free to use. However, there are not many similarities in them, and this article will highlight the differences between Netlify and WordPress.
Since WordPress caters to users without any prior programming experience and who want a comparatively easy-to-use CMS, it is a more popular system covering almost 35% of all of the websites on the Internet. On the other hand, developers who are more concerned about the performance of the website go for Netlify.
WordPress has a heavy backend which is known to impact a site's speed and security. Developers recommend converting the site to a static site whenever you need to speed it up. 
That works perfectly fine for informational sites that hardly require any user interaction and even don't change very frequently. But you would need a database-driven CMS for more complex sites.
By installing performance plugins, choosing a better web host, and updating the WordPress core, plugins, and themes more frequently, you can address the site speed on WordPress sites.
This guide will tell you which of the two is the most user-friendly CMS in 2021. However, before understanding that aspect of Netlify vs WordPress, let's start with understanding both these systems individually.
What is WordPress CMS?

Even though some developers find working with WordPress difficult, it is considered to be the world's most popular CMS, and for a reason. It comes with several appealing features but its open-source nature of customization might also lead to many new problems.
WordPress offers numerous possibilities and can be used to build both large or small websites that accommodate a variety of functions such as e-commerce, blogs, and portfolios. Its endless selection of plugins allows you to determine exactly what you'd like your site to do.
However, you shouldn't go on installing one plugin after another if it's not required. Excessive use of plugins can do more harm than good.
Installing too many plugins or using particular plugins that are not compatible with your theme or with the other plugins that you are using could be a dangerous thing. Too much activity on your WordPress installation will cause your site to load slowly and even create user experience issues.
With the help of theme designs, you can easily customize WordPress to match your desired look and feel. Scroll through thousands of available options, choose the one you like, and install it with just a click.
Its drag-and-drop editors let you see how your site would look as you keep populating each page with content that you want. You can also switch to a new theme whenever you want to give your website design a facelift.
However, remember that all the themes won't be perfectly compatible with the plugins that you need to run your regular business. Besides, some themes also prioritize style over function and can make your website slow and buggy.
Besides being a secure CMS in itself, WordPress also offers various plugins that can help you add additional security elements to your site. Since it is the most popular CMS in the world, it is also highly prone to be hacked by hackers all around the globe.
If you are not updating the WordPress core files, plugins, and themes regularly, even the additional security features can't keep your website completely safe. These issues are a matter of concern, but many companies don't want to give up on their dynamic sites just like that.
What is Netlify CMS?

Catering to more advanced users like website developers, Netlify is an all-in-one platform for automating modern web projects. The Netlify CMS is based on the technology that was used to create the most popular static site generators, JamStack technology.
Also known as the "future of development architecture", JamStack is built on serverless, headless technology, and is based on client-side JavaScript, prebuilt Markup, and reusable application programming interfaces or APIs. This very structure makes it much more secure than a server-side CMS like WordPress.
Netlify is not a static site generator in itself but it is a CMS used to create static and headless web projects. The content, along with your code, is stored in your Git repository for easy editing and updating.
When Netlify is used in conjunction with static site generators, it initiates its own repository for GitHub and its services both. Updates are executed and also distributed across CDNs or content delivery networks, delivering pre-built static pages to users with Netlify picking the best one.
Then Netlify distributes those static sites across its whole content delivery network. When you are serving pre-built pages from the CDNs that are nearest to visitors, a very high page load speed can be achieved.
Since the files are lighter, you can also avoid web hosting fees by hosting your site on the cloud. Netlify platform's free tier plan usually offers more than what is required by most developers for their personal projects.
Netlify CMS is not the same as the Netlify platform, as the latter can be used to automatically build, serve, deploy, and manage your frontend websites and web apps. According to Netlify, the Netlify CMS has never even been locked to their platform although both have the same name.
Some of the other features of Netlify include connecting custom domains, creating custom-styled previews, and adding user interface (UI) widgets, editor plugins, and even backends to support various Git platform APIs. Netlify has kind of simplified the deployment process with Netlify CMS, as it allows developers to create their websites and projects with a lightweight page experience.
Netlify Vs WordPress – A Comparison
As mentioned earlier, despite being the top two most robust content management systems, Netlify and WordPress cater to very different markets. WordPress is best suited for beginners and users who do not have any programming experience but want to create a new website.
Therefore, it's evident that WordPress is the more user-friendly CMS of the two. However, with time the site would keep growing making it slower and slower, for which users might have to create static web pages with the help of static site generators.
Static site generators have their own limitations and that is where the Netlify CMS comes in. It can act as a Git repository and be used to deploy static sites; even editing content for static sites is much easier than editing files from the server manually.
Hence, if you want a user-friendly system you should go for WordPress. On the other hand, if you want to build a complicated website and make sure that its speed and functioning stays constant, you should go for Netlify.
What Is the Difference Between Netlify and WordPress?
| | |
| --- | --- |
| Netlify CMS | WordPress CMS |
| Good for advanced users (web developers) | Good for beginners |
| Some programming experience required | No programming experience required |
| Less user friendly  | More user friendly |
| Best for complicated websites | Best for simple websites |
| Good for high-performance websites | Can slow down the websites |
| Good for creating websites with user interaction | Good for creating non-interactive websites |
Starting a new business?
Get thousands of catchy and creative name ideas for your business + a Free Logo Now!
Namify.Tech