Shopify vs WordPress – The Best eCommerce Store Builder in 2021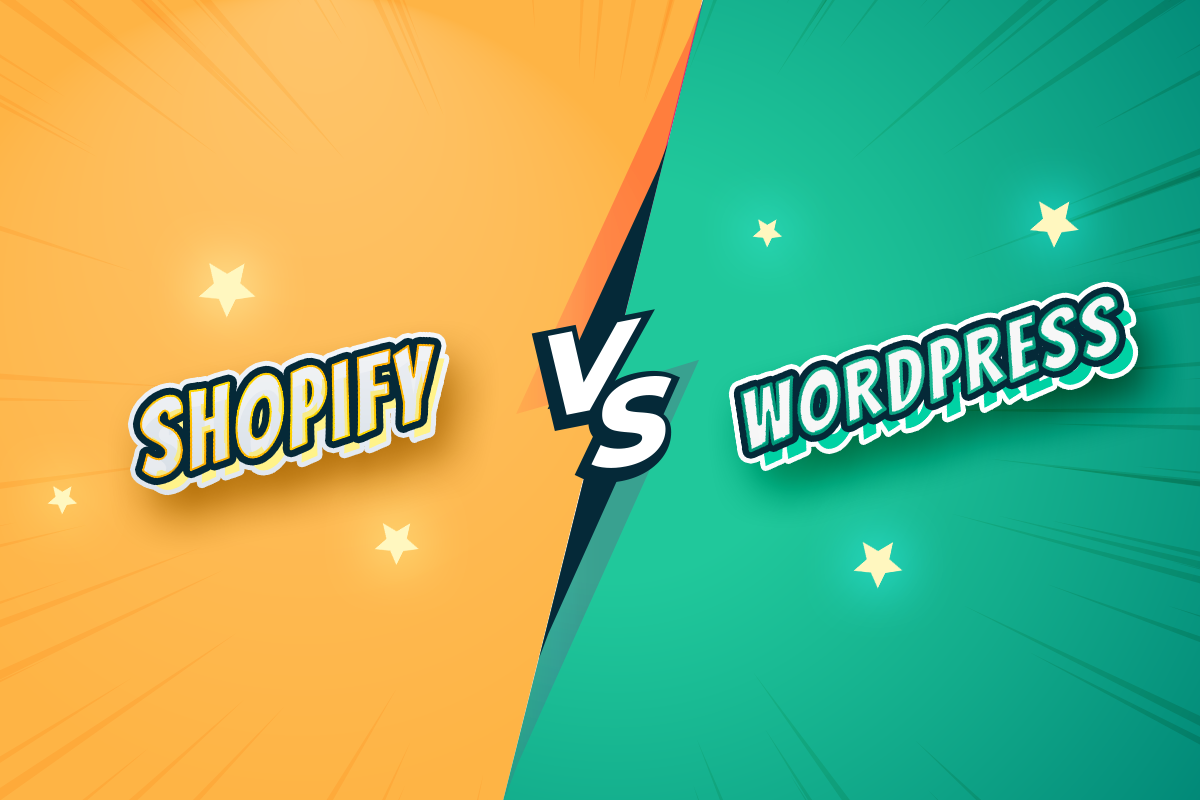 Building an eCommerce store is essential in order to take your business online. But that's where the confusion begins. There are a variety of competitive eCommerce store builders in the market – which one should you choose? In this article, we have explored the differences between Shopify and WordPress, two popular eCommerce services in 2021. 
This ultimate comparison has been drawn up after identifying important criteria like ease of use, features, and customization, pricing, SEO, etc. so that you can make up your mind about which platform suits your needs best – Shopify or WordPress. 
Before we begin, let's talk about the basic differences between Shopify and WordPress. As a platform, Shopify is dedicated to building eCommerce stores. It hosts your site and equips you with pretty much everything you need to kickstart your online store. On the other hand, WordPress is an open-source platform best known for blogging. In order to set up an eCommerce store, a plugin like WooCommerce will have to be installed. 
Now that we have the basics out of the way, let's delve deeper into the pros and cons of WordPress vs Shopify for eCommerce. 
1. Simplicity and ease of use 
Shopify is extremely beginner-friendly. It doesn't matter if you don't know how to code, you can still set up your online store with ease. The simplified dashboard interface makes it easy for you to navigate through the many steps of creating an eCommerce store. Adding products and additional features is also quite straightforward. 
On the other hand, WordPress, being an open-source platform, is slightly more complicated to use. To begin with, you need to set up your own hosting account and purchase a domain name. The next step is to download an eCommerce plugin like WooCommerce. From here on, you can start on your journey of creating an eCommerce store on WordPress, but it won't be without obstacles. You need to keep in mind that as a platform, WordPress comes with a learning curve. You won't learn or know everything in one day – so have patience. 
Verdict – Shopify vs WordPress: Simplicity and ease of use
When it comes to ease of use in Shopify vs WordPress for eCommerce, we have a clear winner – Shopify. 
2. Features and customization 
Which platform has better themes and customization tools – Shopify or WordPress? Let's find out. 
Shopify gives you over 100 themes and templates for your website. While 10 of these choices are free, you have to pay to avail the others. The paid themes start from $99. The great thing about Shopify here is that all these themes automatically adapt to different screen sizes when people log on through their phones, laptops, or tablets. The features on Shopify are easy and effective, but can't often be customized deeply.
When it comes to variety, WordPress shines bright with over 1000 themes and templates to choose from. Moreover, WordPress allows you to customize anything and everything – as long as you know how to do it. Therefore, there are a myriad of customizable features and templates that can add value to your eCommerce store, if you have the time, skillset, or money to use them. 
Verdict – Shopify vs WordPress: Features and customization 
The difference between Shopify and WordPress in this category lies in the simplicity of the features and customization involved. WordPress definitely has more options and customization tools, but Shopify's themes and features are easier to navigate, especially for beginners. WordPress wins this round, but Shopify is not far behind. 
3. Ecommerce features and tools
The battle between Shopify vs WordPress for eCommerce would be incomplete without studying the eCommerce features and tools that both platforms have to offer. 
On Shopify, you can sell unlimited digital or physical products on your chosen plan. The platform comes with built-in inventory, marketing, analytical and shipping tools with more advanced versions at a higher price. Some of the eCommerce features we'd like to highlight are its efficient inventory management system, abandoned cart recovery feature, 70 different payment gateways to choose from, multi-channel integration, etc. 
As mentioned before, to avail the eCommerce features on WordPress, you need to download a plugin like WooCommerce, which in turn lets you sell unlimited products – both digital and physical ones. It also lets you filter and review products through its flexible product segmentation feature. It has a built-in inventory management system, extensive analytical tools, geolocation tools, etc. 
Verdict – Shopify vs WordPress: Ecommerce features and tools
Is Shopify better than WordPress when it comes to eCommerce tools? Despite the fact that it was built for this specific purpose, we do believe that both the platforms are tied in this category. 
4. SEO features
SEO is a crucial factor for the success of any eCommerce store. So, which platform works better here – Shopify or WordPress? 
The most important thing to note in Shopify vs WordPress for SEO is that while the former has built-in SEO tools, the latter requires you to download plugins to avail the benefits. In Shopify, you can customize your titles, metatags, URLs, and H1s to get a better SEO score and rank higher on search engines.
In WordPress, you'll have to download a plugin like Yoast, which lets you customize almost everything on your website. You can either use the free version or pay $89 for the premium version. 
Verdict – Shopify vs WordPress: SEO features
We have another tie in the Shopify vs WordPress for SEO category. If you want good SEO features without extra effort or money, Shopify is your go-to. If you don't mind the extra investment, WordPress can bring a lot more to the table. Either way, both will get the job done pretty well. 
5. Customer support
Customer support is also an important factor in the debate around WordPress vs Shopify for eCommerce. 
Shopify leaves no stone unturned in its effort to ensure that its customers have 24*7 support in the form of emails, phone calls, live chat, etc. There's more: if you have purchased the Shopify Plus plan, you get access to a merchant success manager, who will guide you through every step of the process. 
WordPress, on the other hand, does not provide hand-holding. There is no live support, mostly because you are not paying for such a service on this platform. You can turn to community forums and third parties for help, but it isn't as easy (or cheap) as it would be on Shopify. 
Verdict – Shopify vs WordPress: Customer support
With its extensive customer support and maintenance, Shopify wins this round without much competition from WordPress. 
6. Pricing
At the end of the day, everyone wants to get their money's worth. So, which platform is more value for money – Shopify or WordPress? Let us explain. 
Shopify offers you three main plans ranging from $29 to $299 per month – Basic Shopify, Shopify, and Advanced Shopify. If you choose an annual plan over a monthly one, you can get a discount of 10-20%. The good thing about this platform is that most of your costs are upfront – you won't have to pay for too many features outside the plans you choose. 
While WordPress is technically free, it comes with many hidden costs that you need to take into account. Apart from the hosting account and domain name, you also need to pay for the premium widgets, plugins, etc. WooCommerce is free, but you may need help from third parties to be able to make the most of it – which of course, will cost you. 
Verdict – Shopify vs WordPress: Pricing
If you calculate the overall costs, Shopify does come out to be cheaper than WordPress.
Which is better for eCommerce – Shopify or WordPress?
To further simplify the comparison, we have collated the differences between WordPress and Shopify in the table below. 
| | |
| --- | --- |
| Shopify | WordPress |
| Easy to use from the get-go. | Slightly complex and requires time to learn. |
| 100+ themes, some amount of customization freedom. | 1000+ themes, unlimited customization options, and freedom.  |
| Built-in eCommerce tools for everything your store needs | Downloadable plugins for everything your store needs. |
| Built-in SEO features and tools with customizable descriptions. | Downloadable plugins with customizable features.  |
| 24*7 live support for all your needs. | Limited support from forums and third parties. |
| 3 main plans ranging from $29 to $299 monthly. | Technically free, but can come up to hundreds of dollars with paid services. |
As displayed by this detailed comparison, we would recommend choosing Shopify over WordPress for your eCommerce store, as it comes out on top in almost all the categories listed above.
Starting a new business?
Get thousands of catchy and creative name ideas for your business + a Free Logo Now!
Namify.Tech