Tumblr vs WordPress – Which Is Better for Blogging in 2021 and Why?

Choosing the right platform for your blog can be overwhelming. Not only does every blogging service claim to be the best, but they are also backed by thousands of loyal users who have set up a successful blog on the platforms.
So, the real question isn't 'Which is the best platform for blogging?'. Instead, what you should be asking is, 'Which is the best platform for my blog?'
In this article, we will help you make up your mind about it by comparing two distinctly different and hugely popular blogging services, Tumblr and WordPress.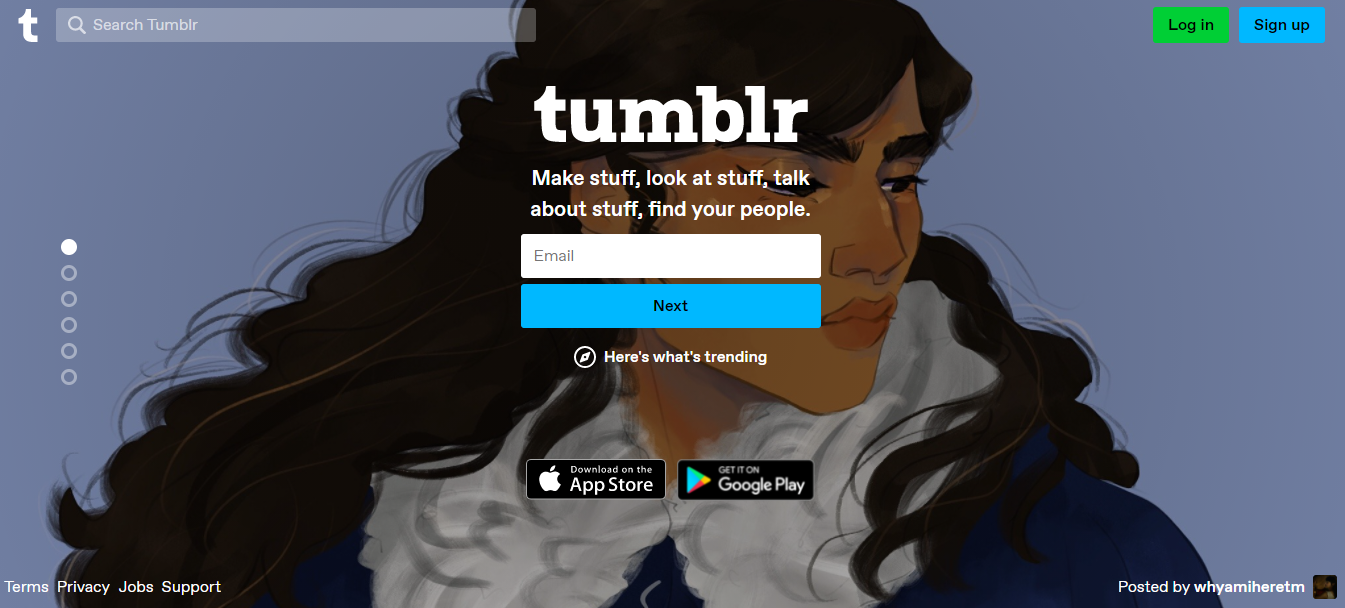 To decide the victor in Tumblr vs. WordPress for blogging, we have analyzed the many features that both platforms have to offer. Read on to know about these differences in detail and to figure out which service works better for you. 
Before we begin, please note that this article talks about the self-hosting platform WordPress.org, which is different from WordPress.com. 

Alright, let's dive in. 
1. Software
WordPress is an open-source platform, which you can download for free. You are, however, required to purchase a hosting plan and a domain name to set up your blog. But once your blog is set up, you can modify it wherever and however you like. 
Tumblr, which is a comparatively new platform, offers a unique mixture of microblogging and social networking in one place. This means that you can interact with other users of the Tumblr community while blogging, giving it an extra edge over traditional blogging services like WordPress. 
Verdict:
Tumblr vs. WordPress: Software 
While both Tumblr and WordPress have useful software, Tumblr wins this round due to the added feature of social networking. 
2. Simplicity and ease of use
Setting up your WordPress account is not extremely difficult. But as you move forward, you might struggle with a few of the more complicated features that the service offers. However, there is an active support community on WordPress that you can rely on to answer your questions and help you move forward if you get stuck.
On the other hand, Tumblr's user interface is extremely beginner-friendly. It has a minimal dashboard with posts from other bloggers and neatly organized features that will aid you in creating your blog posts. 
Verdict:
Tumblr vs. WordPress: Ease of use and simplicity
In theory, Tumblr is easier to use than WordPress, owing to its beginner-friendly approach. But it's important to note that WordPress comes with a learning curve, which is essential for you to grow your blog later. 
3. Design and customization
Before you can decide which platform wins in Tumblr vs. WordPress for blogging, you must look at the differences between their customization capabilities. 
Even without paying, you can utilize many templates on WordPress. The premium ones, of course, offer more widgets and plugins that can make your blog more decorative as well as efficient. You can also customize these themes as well as modify their source code. 
Making changes and customizing your blog on Tumblr is easy, primarily because there aren't that many options to choose from. You can opt between free and paid themes, or modify the HTML code behind one. However, the choice in themes pales in comparison to the vast sea of options that WordPress has to offer. 
Verdict:
 Tumblr vs. WordPress: Customization and design
WordPress wins this round due to the endless repository of customizable themes it comes with. Tumblr cannot compare. 
4. Ownership
There is a distinctive difference between WordPress and Tumblr in terms of the ownership offered to a blogger. As we mentioned before, WordPress is an open-source platform. So, once you have downloaded it and set up your blog, it belongs to you and only you. You can do whatever you like with it.
Tumblr, however, is owned by Yahoo. This means that you don't have the sole ownership of your blog – that sits comfortably on the company's servers. You cannot download the stuff you put up. 
Verdict:
 Tumblr vs. WordPress: Ownership
If you want to own your content – as you should – WordPress is the platform for you. If you already have a Tumblr account and are wondering what to do, we have good news. You can easily import your blog to WordPress and switch to it. 
5. Content management and SEO
Due to its versatility, WordPress enables you to manage the content for your blog efficiently, whatever your content strategy may be. It also gives you many SEO benefits and helps you rank higher on search engines. It is a better platform for the future of your blog if you want to make a livelihood out of it.
Due to the way, it's been designed, Tumblr is more effective for short-form content that relies heavily on imagery. Unfortunately, that means that your Tumblr posts are unlikely to rank very high on search engines. Having said that, you can make an extra effort to maximize the SEO benefits by writing longer posts, getting your custom domain, and by adding title tags, etc. It's a lot of technical work, but it's possible. 
Verdict:
 Tumblr vs. WordPress:
Content management and SEO
If you want a blogging service that will offer you the best content strategy and SEO options, we recommend WordPress over Tumblr. 
6. Pricing 
When it comes to cost considerations, here's what you need to know about Tumblr vs. WordPress for blogging. 
As you know by now, despite being free software, WordPress does require you to buy a hosting plan and a domain name to finish setting up your blog. Bluehost has a special offer for WordPress users at $2.75 a month, which includes a free domain name. As you become a regular blogger, you may even want to invest in some paid services and products for the upkeep of your blog. 
Because it is owned by Yahoo, Tumblr is a free blogging service – more or less. If you wish to obtain a custom domain like you would on WordPress, you can pay for it. Moreover, you can also purchase some of the more advanced themes that aren't included in the free package. 
Verdict:
 Tumblr vs. WordPress: Pricing 
If you want to start a blog without investing any money, you can pick Tumblr. However, if you're a serious blogger and want to monetize your blog later, we recommend going with WordPress, even if you have to incur a monthly cost. 
Which is better for blogging – Tumblr or WordPress?
To further simplify the comparison, we have collated the differences between WordPress and Tumblr in the table below. 
| | |
| --- | --- |
| WordPress | Tumblr |
| Open-source platform suited for blogging. | The unique combination of blogging and social networking. |
| Requires time and effort to navigate the blog fully. | Easy user interface with a beginner-friendly approach. |
| Lots of choices and customization options. | Limited options for customization. |
| Complete control and ownership lie with you. | Your blog is owned by Yahoo.  |
| Great content strategy backed with SEO benefits. | Better suited for visual, short-form content. Limited SEO benefits. |
| A small monetary investment is required. | A free service. |
In conclusion, we would just like to reiterate that choosing the right blogging platform depends on your unique needs. We hope this detailed comparison has helped you in identifying and categorizing those needs. Feel free to bookmark this page and revisit it when you're setting up your blog. 
Starting a new business?
Get thousands of catchy and creative name ideas for your business + a Free Logo Now!
Namify.Tech