WordPress vs Joomla – Which is a Better CMS for your Business?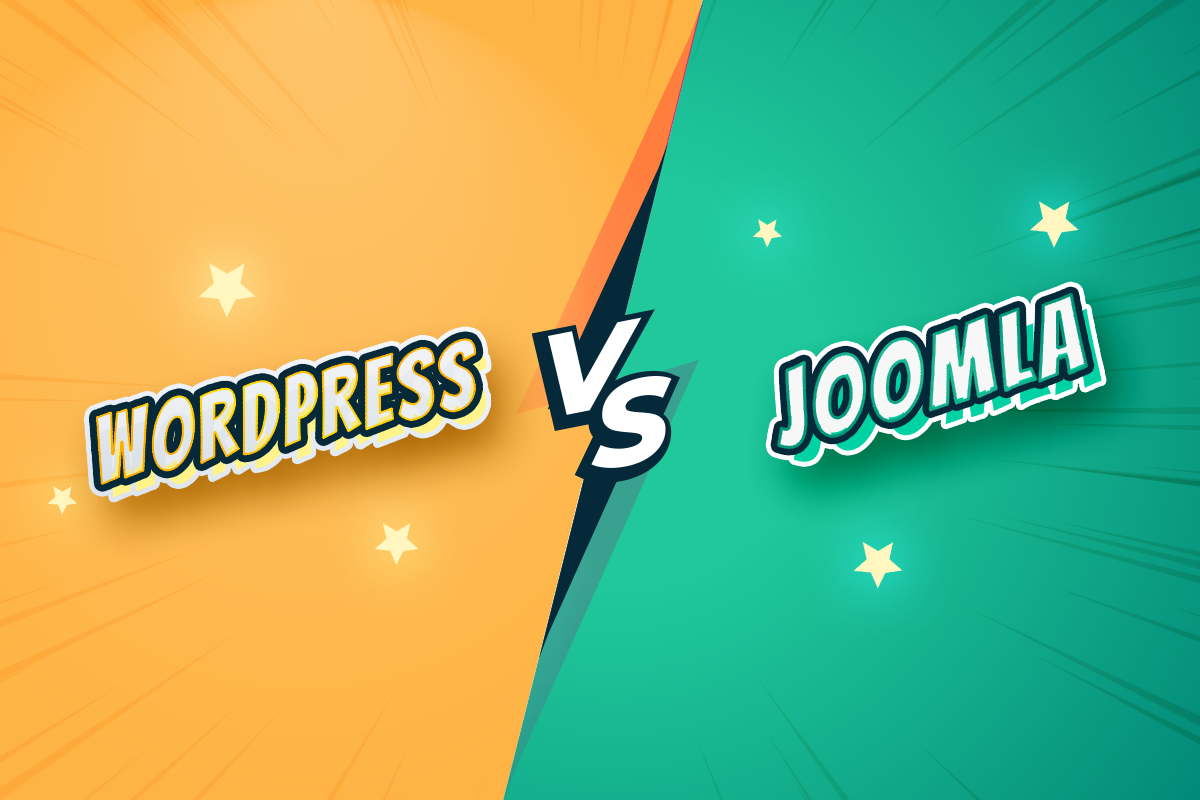 If you are planning to take your business online, the first major decision you will have to make in your journey is to choose an appropriate Content Management System (CMS).
The Internet is full of platforms offering varying CMS features for your business, and singling one out can be difficult, especially if you don't have prior experience.
In this article, we will help you narrow down your options by comparing two CMS-based platforms, WordPress and Joomla. 
In this elaborate guide, you will find all the notable differences between the two platforms, such as ease of use, pricing, SEO, etc.

Let's get started.
1. Setup and ease of use 
As an open-source platform, WordPress requires you to first set up a hosting account. You can choose to have the software installed automatically on this account, after which you get instant access to your dashboard. On the whole, it's fairly simple to start a basic website on WordPress. For the most part, WordPress is considered beginner-friendly even after the initial stages of setting up.
On Joomla, you can also easily find a web host that allows you to auto-install it. However, the setup requires you to break down your planned content into categories and articles, which might take more time than on WordPress. Joomla is also supposed to be more complicated, especially if you're not a developer. 
Verdict – WordPress vs Joomla: Setup and ease of use
Because of its simpler setup and general ease of use, WordPress wins this round over Joomla.
2. Content management
Both WordPress and Joomla are efficient content management systems. While the former is known for blogging, the latter offers you more flexibility with various types of content. Let's look at the main differences in content management in WordPress vs. Joomla. 
The biggest advantage of WordPress's CMS is that it is intuitive and extremely easy to navigate. It has over 54,000 free plugins. You can also avail of over 5,000 free themes to beautify your website or blog. Apart from these, they also offer paid options for you to choose from. 
Joomla, as mentioned earlier, is much more complicated to use. But its redemption lies in the fact that it holds endless opportunities for your business to grow over time if you're patient enough to stick through the learning curve. Joomla offers over 8,000 extensions for you to build and grow your website – but most of these are paid features. 
Verdict – WordPress vs Joomla: Content management
Because of its intuitive CMS and a wide variety of free extensions, WordPress comes out on top in this round as well. 
3. Security
Because of its huge market share and massive popularity, WordPress does stand out as a target for hackers around the world. Having said that, you can do a number of things to ensure the safety of the website of your business, like installing safety plugins for extra protection. The code in itself is as safe as can be, and the rest is up to you (and a bit of luck). 
Joomla, too, has developers working day in and day out to ensure its safety from hackers. You can install safety plugins and rely on a list of extensions with known vulnerabilities to keep your business protected. 
Verdict – WordPress vs Joomla: Security
Both WordPress and Joomla have similar pros and cons in this category, and therefore, we have to call it a tie. 
4. Customer support
Though WordPress doesn't have an official support system to help you when you get stuck, it has a large community of users who can guide you. You can rely on support pages, community forums, and FAQs to help solve your problems. If you encounter a unique problem, you can hire a third party for help – but that will cost you. 
Joomla also has an active community of thousands of users, who can help you with solutions for your website. You can find support pages, tutorials, articles, and more to guide you through the process of setting up your online business on the platform. However, the one downside to Joomla is that it can be hard to find third parties who have experience in solving customized problems for you. 
Verdict – WordPress vs Joomla: Customer support
Owing to the option of hiring third-party help, WordPress wins this round by a very small margin.
5. Multilingual support features
You can avail of multilingual support on WordPress, although you will have to turn to paid plugins and third parties for it. It can come up to be quite expensive. 
On the other hand, Joomla has built-in multilingual support, which allows you to have your content up in more than one language. It's free to use and doesn't require any additional plugins or third-party assistance. 
Verdict – WordPress vs Joomla: Multilingual support features
Joomla wins this round fair and square due to its amazing built-in multilingual support features.
Which is a Better CMS for your Business – WordPress or Joomla?
We've summarised the key differences between WordPress and Joomla in the table below, so you can compare them at one glance. 
| | |
| --- | --- |
| WordPress | Joomla |
| Easy setup with auto-installation, beginner-friendly to use. | Auto-installation available, more complicated to use. |
| Intuitive CMS with a huge variety of paid and free plugins and themes. | Complex but effective CMS with a range of paid extensions.  |
| Safety plugins are available. | Safety plugins are available. |
| Free community support and paid third-party assistance are available. | Free community support is available. |
| Need to download paid extensions for multilingual support. | Free built-in multilingual support is available. |
We hope this article helped you make up your mind. If you are looking for a reliable and effective CMS platform to take your business online, we recommend going with WordPress over Joomla, especially if you're not a developer yourself. You can bookmark this page and return to it when you have started the process of setting up your website on either of the two platforms.
Starting a new business?
Get thousands of catchy and creative name ideas for your business + a Free Logo Now!
Namify.Tech